Modern architecture loves to think out of the box as designers and engineers are constantly trying to outdo others and themselves with designs homes and skyscrapers that stand out from the crowd. One of the biggest plus coming from all of this is the creation of new structures that seem to surprise us with the unique form. Nestled in Frohnleiten, Austria and created by architect Weichlbauer Ortis, this beautiful modern green home is a perfect example of 'thinking out of the box' and designing homes that look unlike the many box-shaped structures that are so common across the globe.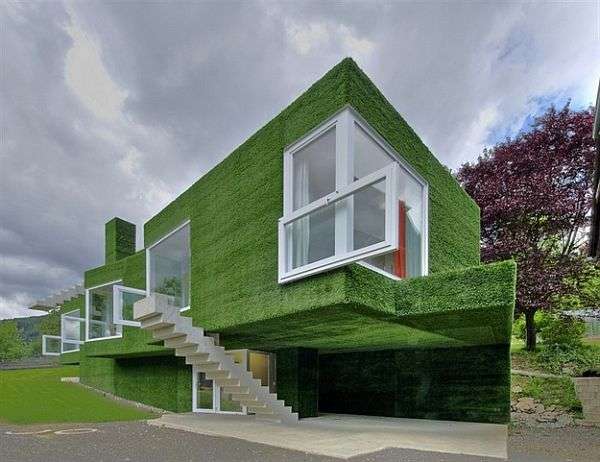 This wonderful home tries to merge with its green surroundings by using a similar colored Astroturf surface. This allows it to become a natural extension of its surroundings and make for a beautiful sight indeed. But what is more startling is the arrangement of the doors, windows and the staircases in the home.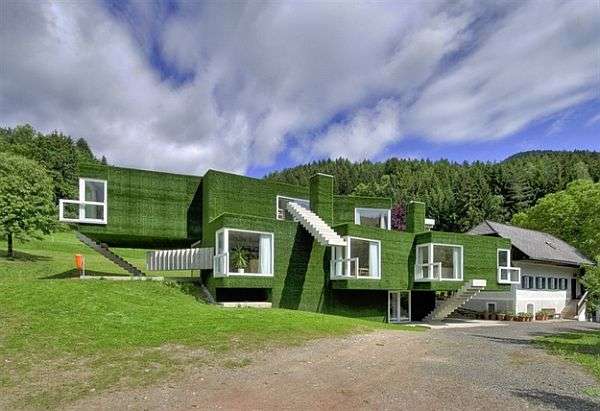 As you can see in the pictures, all the doors and windows have been arranged in a fashion that is anything but normal to play off of spatial arrangement. Everything is pretty much reversed and convention becomes topsy-turvy as doors are placed as horizontal railings and even the staircase seems to be place in the opposite direction. And yet the home still looks amazingly charming and something that most of us would be happy to call our own.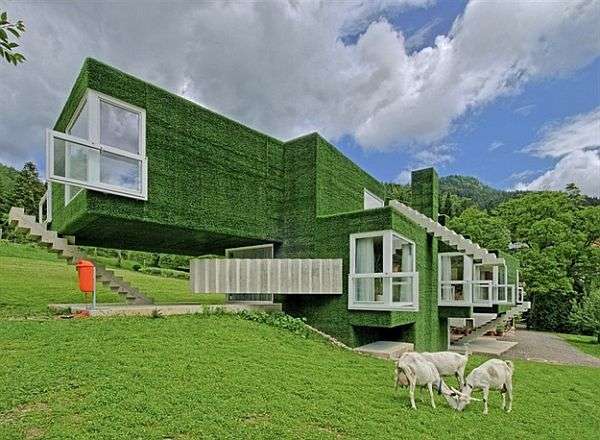 Under that green cloak is a beautiful, modern minimalistic home that has white concrete walls along with the perfect blend of glass and wood to create stylish interiors and a very exceptional exterior. While we would have loved to have a bit more a peak of what lies on the inside, for now this will have to do. Maybe another day the doors will open up as we take a more detailed look at this nature-loving home.