What you look for in a home is purely a personal choice and while some love the design and the decorative aspect of it, others like to focus on functionality. Of course, how much you are willing to spend is an important aspect as well. Location of the luxury home also plays an important role and people do tend to worry about the heating and cooling needs that will keep the interiors comfy at all times. But controlling the weather is not something that anyone of us can achieve and hence if you want a home that is perfect for all seasons, it needs to be dynamic in nature.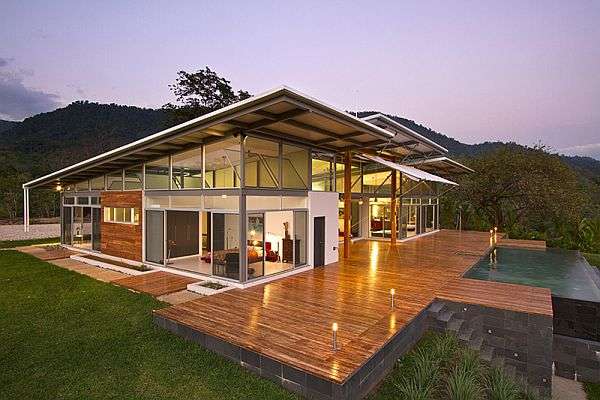 And that is exactly what this beautiful home from Osa Peninsula of Costa Rica is. Designed by Roblesarq, this luxury home comes with a unique system that will control the homes natural thermal insulation by the control of shades, drapes and many such features. The smart system of the home can easily identify the conditions outside and even depends on weather forecasts to ensure that it prepares for that extra bit of snowfall in a week's time or that sunny period which could see the temperatures getting uncomfortably hot.
The idea here is to maintain a stable internal temperature without actually depending way too much on artificial heating and cooling needs. This allows good natural ventilation during most days of the year and add to this, the flowing interiors that seem very spacious and the alluring pool on the outside and this is one house that most of us would be glad to call home. With a beautiful and balanced use of wood, glass and concrete Roblesarq have indeed created a gem of a structure.