Implement these creative kitchen storage ideas and keep your kitchen organized. Sometimes all the kitchen space in the world is not enough to store the tools that you gather in years. Especially when your kitchen is as small as mine. You need to be creative and effective when it comes to organizing your collection of tools. You can find below some tips and a lot of inspiration on how to organize your kitchen space effectively and creatively.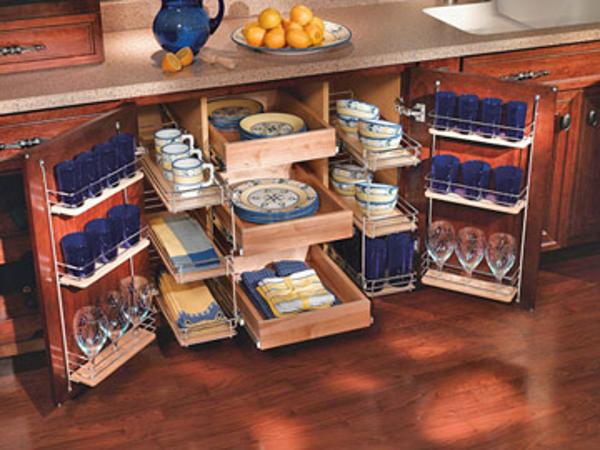 Usually it's a good idea to hang them – you can install some hooks on the ceiling or on the walls. You can also install some shelves on the walls to store items like glasses, cups and plates out of your way. Sometimes even this is not enough.
When your space is limited, sometimes the best idea is to identify spots that are usually left unused – a few inches between the sink and the furniture, or the few feet above the sink. With some ingenuously designed drawers and shelves you can store an amazing quantity of kitchenware out of anyone's sight, but still be able to find everything you need in the shortest time possible.
Beside being efficient, novel storage ideas can add a decorative twist to your boring kitchen furniture. If your tableware is of a certain color, you can paint the shelves to a matching – or even contrasting – shade, so it would offer a cool effect when filled. Use some wicker baskets to the mix for that extra rustic effect. Use old style jars to store your spices – they look amazing on the shelf.
Use every spot you can think of. Usually the kitchen furniture has some hidden and unused spaces that can be reused for storage or decoration.
Here are some inspiring designs that can give you some tips on where to start.