Skidome Denmark will be a Alpine style indoor ski facility in the Danish city of Randers, the sixth biggest town of the country. Danish architectural company CEBRA and travel agency Danski are responsible for the idea and construction of the unconventional resort.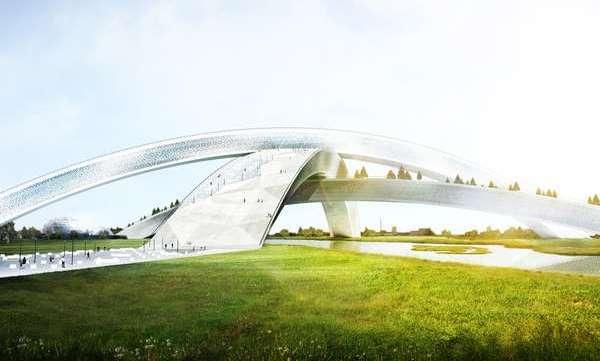 The unconventional ski resort was inspired by the slopes of the Alpe d'Huez ski centre in France. Skidome will provide almost two miles of artificial slopes for the lovers of this winter sport, along with many other associated services, such as hotels, restaurants, freestyle park between others, usual for a modern ski resort.
Skidome will look a lot likes a six-angled snowflake with its three crossing arcs. These arcs will form the biggest indoor ski facility of the world with its more than one million square feet of surface, of which about 750,000 square feet will be the slopes. When ready, Skidome Denmark would become the biggest indoor ski resort – Skipark in Dubai, with a surface of "only" 240.000 square feet, and it will be a direct competitor of the Skipark 360 in Sweden, construction of which has almost been started.
Skidome will have the six indoor slopes and two outdoor slopes, inside and on top of the arcs, with 2300 feet long sections for downhill. Skiers will be transported to the top of the slopes by chair lifts, but there will also be elevators running to connect the slopes.
Slopes will be color-coded depending on their difficulty. Indoor skiers will also be able to enjoy the view, as the structures' wall will be perforated, allowing skiers to see the surroundings, including the Gudenå river, over which the arcs will pass.
Skidome will have a "top" section as well – the top of one arcs will be a "proving ground" for the "hardcore" skiers all year long. Other roof sections will be reserved for the bikers and boarders visiting the facility. Even so, there will be room left for classic parks on the top of the arcs.
When will this Skidome Denmark be built? No information on that just yet – but when built, it will be an eligible place for Winter Olympics.