We do admit that we have a certain fascination for pendant lighting and it comes from the fact that they offer many design possibilities along with presenting a wide variety. You can use them at different points in your home to bring out the best in your decor and they do add a lovely touch to your ceiling as well. Here is another pendant lamp collection and this one surely is set to make anyone who lays their eyes on it howl with joy… Even if they are not going to transform into a weird Werewolf come full moon night!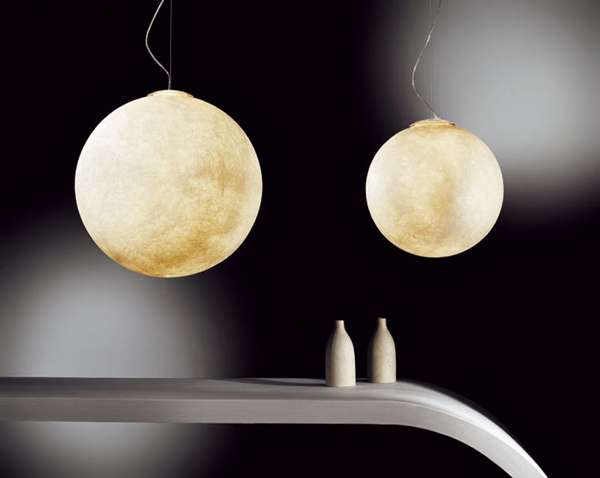 Designed by In-es.artdesign these unique pendant lamps play on our fascination with the moon, which seems to transcend cultures and timeline. Everyone across the globe is fascinated by the moon and this is increased several fold during the full moon nights when the gently lit nights add a sense of delight to the dark nights and fill the air with new found romanticism. The lighting installations try to mimic just that and from what we see in the images, they do seem to do a damn good job at that.
The globe-like structures, with their special shading, seem to resemble the surface of the moon on a full moon night as viewed from earth. It is not the pristine white, but the subtle textures that come with this varying shade that give it its look of authenticity. Do check them out in person though and if you are convinced that they look like the 'prince of nights', then they are definitely worth your green. There are other designs on offer from In-es.artdesign, but it is hard to look past these shining beacons.