Not all of us are lucky enough to have a 'summer home' to fall back on to during the few holidays that we do get in the period. Most of us have to do with spending time in some hotel on the beach and while that can be relaxing as well, it is definitely a lot better to have an option like this luxurious summer retreat on the coast of Sao Paulo in Brazil. Designed by Nitsche Arquitetos Associados, this beautiful and secluded retreat in Iporanga, Brazil surely paints a very inviting picture with its lush green surroundings and interiors that are designed to soothe your senses.
The summer house itself is a three-level structure that sports various rooms on the ground floor which accommodate the house keeper and others who take care of the services in the home. The two levels on top are clad with luxury as they are laced with fantastic modern facilities which will ensure that you are never too far away from what you need and sport floor-to-ceiling glass windows that invite the thriving flora and create a natural extension of the interiors.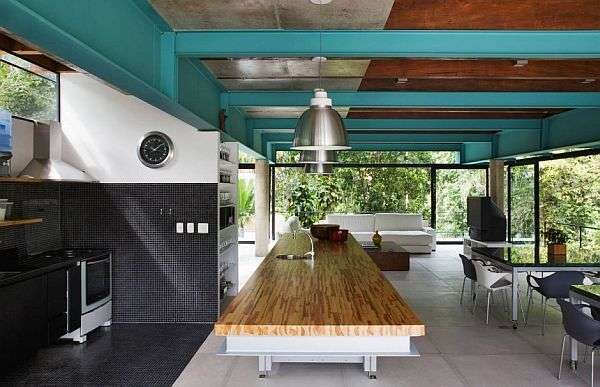 The walls are painted in white, green and blue to specifically offer you the feel of a 'holiday' and bring in some cheerful joy and if you need a lot more than the wooden deck along with the beautiful pool ensure that you have a memorable time here. There is also a suspended wooden structure that will give you the feel of a tree house and with the coast never too far away from this condo, you can be sure of having a good time.