Ever gave Origami a shot? Well, some of us did and all that effort ended up in was making of a few paper rockets that flew across the classroom and hit the wrong people while missing the intended targets by a couple of feet. Of course, we will not reveal who we are talking about, but if you checked the detention room records at my old school (if they keep such things), then you will find pretty good evidence. Origami is not for all of us and it does a certain amount of skill to create even the simplest designs. But Dutch designer Sander Mulder decided to go ahead and craft some Origami chairs that seem to renew and even help us discover a love for geometry and design.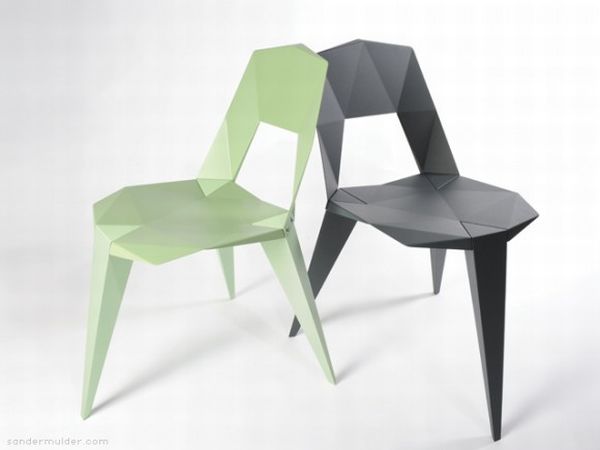 Of course some of the Origami enthusiasts might be wondering how he managed to make chairs out of paper. Well, he did not. The design is inspired by Origami, but Sander Mulder has used aluminum sheets and molded them into patterns of his choice to create these chairs that he fondly calls 'Pythagoras'. The concept is pretty much the same, but instead of using papare, the designer has chosen aluminum as his work material and of course that makes a whole lot of sense thanks to the durability and the portability offered by the metal.
Mulder uses powder coat for finish and these chairs can be used both as part of your interiors or as a part of your patio décor. They come in various colors and you can use even oak legs instead of aluminum ones, if you would like to add a further twist to the design. We though prefer the all-aluminum ones.