The hustle of big city life can indeed sometimes get the better of you. Most of us either take a holiday to escape from the busy mundane lives. But it would a nice change of pace to live life that si away from all the rush on a more regular basis. New Zealand as a nation is in itself a pretty tranquil place with sparsely populated stretches of land and amazing natural beauty where much of the terrain is still preserved and sometimes even untouched by human activity. This home on Waiheke Island, a 19km ferry journey from down-town Auckland, is designed for a semi-retired couple and it surely helps them spend their retirement years surrounded by tranquility.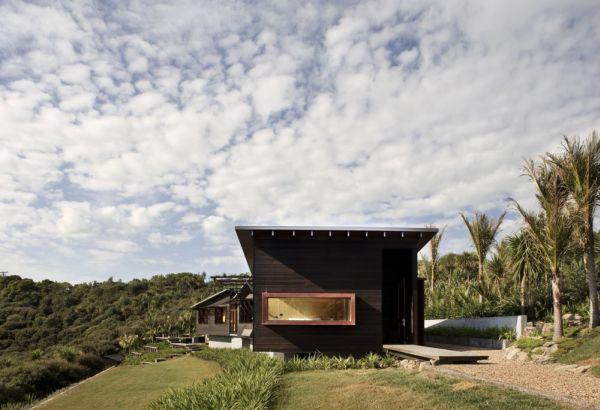 This house in Auckland itself faces the ocean and the outer islands of the Hauraki Gulf and is covered with laminated pine portals and dark stained cedar weatherboards. The Owhanake Bay home was designed by Strachan Group Architects to be a single level structure that offers ease of accessibility to its residents. It has been built to merge with the contours of the region and blend in with the landscape of the gully that it is nestled by.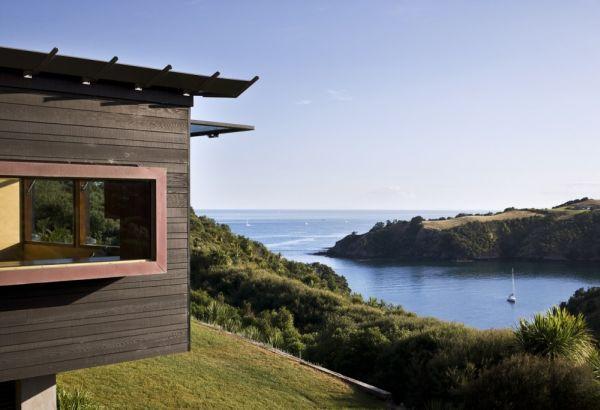 There is a pool and a spa space that helps in relaxation while the lavish veranda allows you to enjoy much of your day outside during the many days in Auckland that offer beautiful weather. Semi-screened rooms with reflection pools, solar water heating system, rainwater collection systems, beautiful walkways that are lined with greenery add up to make this a truly complete home.